Places of interest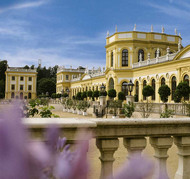 There are three parks and three palaces to visit in Kassel. The hilltop Wilhelmshöhe park affords a marvellous panoramic view of the town. Also situated on Wilhelmshöhe hill is Löwenburg Castle, a romantic, neo-Gothic ruin. Karlsaue, a baroque park on the banks of the River Fulda, and Wilhelmsthal Palace, a summer residence and hunting lodge, are also well worth a visit.
Wilhelmshöhe park, statue of Hercules and palace
Wilhelmshöhe park is a remarkable place. Its most striking attraction is the statue of Hercules, Kassel's famous landmark. Other highlights include fountains, a miniature temple, the remains of a Chinese village and Wilhelmshöhe Palace. A phenomenal synthesis of the arts featuring natural spectacles, architectural gems, various period styles and curiosities.
Ruins of neo-Gothic Löwenburg Castle
Built around 1800, Löwenburg Castle has a number of medieval features such as a moat and a drawbridge. Inside, the castle is filled with genuine medieval furniture and a number of rare and unique objects: altar slabs, medieval glass windows from churches and abbeys, weapons and armour, bronze statues, games, gaming tables, and much more besides.
Karlsaue park and orangery
The orangery was built in 1701 for Landgrave Karl and his wife Maria Amalia as a greenhouse with summer lounges. It is the most important feature of Karlsaue park, originally designed as a hothouse in which to keep tropical plants over the winter.
Top of page
Map of Germany
Map showing all of Germany's TOP travel destinations...
Click here!
Search in surrounding area