Nature & greenery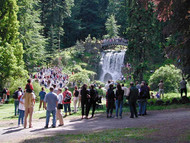 Kassel's many parks and gardens are perfect places for visitors to take a break from their sightseeing. They include the Wilhelmshöhe Palace park and the upland forest park with its impressive fountains and cascades. The Karlsaue baroque park with the Siebenbergen flower island, Wilhelmsthal palace park and Fuldaaue leisure park and botanical gardens also make for attractive excursions.
Fuldaaue leisure park
Fuldaaue leisure park is situated on the western banks of the River Fulda, just over the river from Karlsaue park. This modern park has a large lake, the northern part of which is a nature conservation area. The south-west section of the park is a recreation area for waterbabies of all ages. There are also a number of footpaths on which visitors can explore the park.
Siebenbergen flower island
Karlsaue park lies just outside the town of Kassel. Like many other baroque landscaped parks, it was transformed into a country park at the end of the 18th century. At the park's southernmost tip is the Siebenbergen flower island, which provides a habitat for herbaceous perennials, ornamental copses, rhododendrons and rare conifers.
Top of page
Map of Germany
Map showing all of Germany's TOP travel destinations...
Click here!
Search in surrounding area