Suggested excursions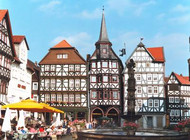 Surrounded by open countryside and nestling between the Habichtswald hills and the Reinhardswald and Kaufung forests, Kassel is the main town on the German Fairytale Route. Visitor attractions include Sleeping Beauty's famous castle (Sababurg) and Fritzlar, a former centre of imperial power.
German Fairytale Route
The German Fairytale Route runs for more than 600 kilometres and features a variety of places where the Brothers Grimm lived and where their fairytales were created. The Fairytale Route leads to a number of enchanting medieval towns, castles and palaces offering a combination of culture, customs, cosmopolitan flair and regional crafts.
Sababurg Castle
Sababurg Castle is situated in the heart of Reinhardswald forest between Kassel and Göttingen in the Weserbergland hills, the fairytale region that inspired the Brothers Grimm. Another popular destination is the zoo, which is devoted to ensuring the survival of the large animals in the forest. Famous as Sleeping Beauty's castle from the fairytale by the Brothers Grimm, Sababurg Castle dates from the late 15th century.
Fritzlar, a former centre of imperial power with a cathedral
Around 25 kilometres south-west of Kassel is Fritzlar, a town whose medieval centre is surrounded by almost completely preserved town walls and features around 450 half-timbered buildings. The market square, with the old merchant house dating from the 15th century and the market fountain, is an impressive sight. St. Peter's Cathedral with its two towers is also worth a visit.
Top of page
Map of Germany
Map showing all of Germany's TOP travel destinations...
Click here!
Search in surrounding area