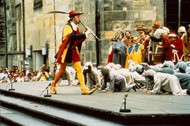 You will come across the famous tale of the Pied Piper everywhere in Hamlyn and a special telling of the story can be found in the Pied Piper open-air plays. In 1284 the piper was cheated out of money and in revenge lured the children of Hamlyn away from the town never to be seen again.
A tale of rats and vanishing children
Every Sunday from May until September the terrace of the Wedding House becomes a stage for the popular Pied Piper open-air plays. The 30-minute production breathes new life into the tale of the Pied Piper, with around 80 performers in colourful medieval costumes playing out the events of 1284 when all of Hamlyn's 130 children disappeared. Visitors can watch this performance of the spine-chilling story free of charge.