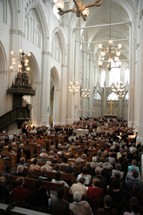 The Greifswald Bach Festival takes place in June and is the cultural highlight of the year, attracting visitors from all across Germany. Concerts and lectures focusing on Germany's most famous musician are supported by the Pomeranian Protestant Church.
A real cultural institution
The Bach Festival has become an important part of Greifswald's cultural calendar, combining religious elements with professional event organisation and a high level of local involvement. In the three principal churches visitors from far and wide enjoy Bach concerts and performances throughout the day, together with a number of lectures.