Places of interest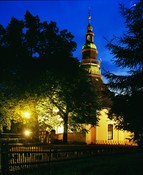 The village of Seiffen, in the very east of Germany in the midst of the Erzgebirge mountains, is a toy and Christmas paradise. Seiffen's famous round church is well-known as one of the most enchanting images found on German Christmas cards. See how traditional wooden Christmas decorations such as angels and miners are crafted in the demonstrations run by the "Seiffener Volkskunst" workshop.
Round Church
Since time immemorial the Seiffen Church has been a magnet for thousands of people from all over the world. Alongside its uncluttered style, the appeal of this church lies in its octagonal shape, whereby the dome is supported by eight columns. The church is a haven of tranquillity at Christmas with its festive decorations and its children's choir singing peaceful Christmas carols.
"Seiffener Volkskunst" workshop and demonstrations
A visit to the "Seiffener Volkskunst" workshop in the toy town of Seiffen is an extra-special treat. Experience at close hand how the famous models from the Erzgebirge mountains such as the nutcrackers, pipe-smoker incense burners, angels and miners are turned and carved, painted and then finally put together.
Library and Gallery
An unusual attraction: Seiffen's library is not only a modern educational institution perfect for bookworms, it is also home to the Seiffen Gallery, where visitors have access to changing exhibits which include displays of photography, paintings, graphic prints and folk art.
Top of page
Map of Germany
Map showing all of Germany's TOP travel destinations...
Click here!
Search in surrounding area