Shopping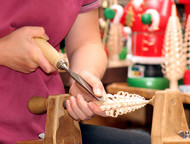 The toy-making village of Seiffen has become famous for its unmistakable woodturning crafts. What is today an ever-improving toy manufacturing industry actually first originated from the need for mining families to buy more bread. All year round more than 100 small workshops produce and sell ornamental fir trees, pipe-smoker incense burners, nutcrackers, enchanting angels, decorative Christmas arches, music boxes and pyramids that rotate by candle heat.
Hauptstrasse
The shops and workshops are strung together like pearls along the Hauptstrasse (main street) – "Seiffener Räuchermannstube" (Seiffen Incense Burner Shop), "Die Spielzeugschachtel" (The Toy Box), "Seiffener Pyramidenhaus" (Seiffen Pyramid House) or "Wendt & Kühn Figurenwelt" (Wendt & Kühn Model World) – open every day, some stock a huge range from several craft workshops, some just sell products from their own production line and many give demonstrations
Top of page
Map of Germany
Map showing all of Germany's TOP travel destinations...
Click here!
Search in surrounding area