Nature & greenery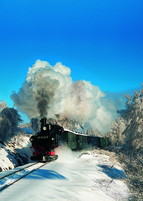 The Erzgebirge/Vogtland nature reserve is a paradise for nature lovers and active holidaymakers in summer
and
in winter, when the snow transforms the forest into a winter wonderland. The Pressnitz Valley railway, a lovingly restored, narrow-gauge railway from the 1890s once again steams through the romantic valley promising a nostalgic journey into the past.
Pressnitz Valley railway
At the time when silver was mined here many forges and settlements sprung up along the Pressnitz Valley, which later became industrial factories. Since 1892, a narrow, 750mm gauge railway has been steaming through the romantic Pressnitz Valley. It was used to transport the valuable ore and the workers employed in the ore mines. After the mines were closed at the end of the 1980s the line, which was once 23km long, was gradually reconstructed. Nowadays the historical narrow-gauge railway takes excited visitors on a 8km journey between Jöhstadt and Steinbach.
Erzgebirge-Vogtland nature reserve
These attractive, densely wooded highlands on the border with the Czech Republic reach a height of more than 1,200 metres with the Fichtelberg their highest peak. They are unusually rich in mineral resources such as silver, tin, cobalt and lead. Hundreds of kilometres of well-maintained walking and cycling trails and bridle paths as well as cross-country ski runs take visitors through densely-wooded forests and pretty river valleys to numerous nature and mining trails.
Top of page
Map of Germany
Map showing all of Germany's TOP travel destinations...
Click here!
Search in surrounding area