Museums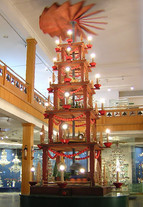 The most famous museum in Seiffen is the Toy Museum. Alongside the spectacular windmill pyramid there is a wide range of wooden toys to see. Seiffen also has a great deal more to offer. A folk history museum in the form of an open-air museum as well as the model railway museum make Seiffen a varied and exciting place to visit.
Toy Museum
The Toy Museum is situated in the heart of the toy-making village of Seiffen. Its biggest attraction is the brightly decorated windmill pyramid, which stands 6.3 metres tall. Alongside this there are around 3,000 extra-special items on show: miniature toys,
Reifendrehen
toys (carved from wooden hoops), as well as toys and games with moving parts. Every Christmas the museum puts on special themed exhibitions and a varied programme of events attracts visitors in the summer months.
Open-air museum
The open-air folk history museum was opened as a part of the Seiffen Toy Museum. The everyday lives of the Erzgebirge people in the 19th and 20th centuries are brought to life in its various houses, workshops and buildings. The exhibition focuses on the woodworking crafts in the Erzgebirge region.
Model railways
A top destination for all railway enthusiasts, especially model railway fans. You'll find everything to do with miniature tracks and trains in the Model Railway Museum, and every other year the second floor of the house is completely redesigned, giving visitors something new to see on their return. There is also a model railway laid out with great attention to detail in the garden in front of the house.
Top of page
Map of Germany
Map showing all of Germany's TOP travel destinations...
Click here!
Search in surrounding area