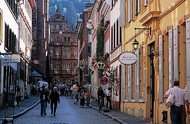 In the Hauptstrasse that runs parallel to the Neckar river, there is more than one kilometre of shopping heaven between Bismarckplatz and the Karlstor arch, with enchanting side-streets, historical surroundings and modern living. This is where the heart of the old town beats.
Style and tradition in the side-streets
A pleasant stroll along more than a kilometre of shops. Rummage around in antique shops and second-hand book stores, visit an art gallery or browse through bookshops. Be inspired by trendy, young boutiques, track down designer labels or explore the department stores. Sniff out the Christmas atmosphere of the Käthe Wohlfahrt shop or buy yourself a cuckoo clock, and top it all off with a glass of Heidelberg wine in one of the student bars.