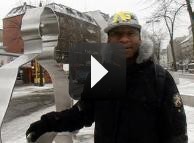 In the heart of this Hanseatic city you can shop for the latest goods among the historical façades of the palatial shopping arcades or in state-of-the-art buildings. Europe's largest sports shop, the world's biggest electronics store, and the largest shoe store in Europe are sure to whet your shopping appetite.
The Hanseatic city's main shopping street
Along the "Mö", as the people of Hamburg like to call their favourite shopping street, the old merchant's villas are now home to a wide variety of huge department stores. Ever since it was built at the beginning of the 20th century, this magnificent boulevard between the main train station and the town hall has embodied the economic power of the Hanseatic city and today welcomes visitors from all over the world.