Nature & greenery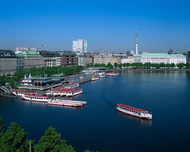 Alsterpark is Hamburg's most popular park and has a number of cafés and restaurants. The "Planten un Blomen" gardens situated between the Alster lake and St. Pauli district feature botanical gardens, a tropical house and the largest Japanese garden in Europe. The municipal park (
Stadtpark
) is the city's largest "playground", with an open-air stage and a renowned planetarium. There are pleasant walks along the banks of the river Elbe.
Alsterpark
On the green shores of Alster lake in the Harvestehude district is one of Hamburg's most popular parks. Sun worshippers, workers from the nearby offices and embassies, students and other Hamburg locals flock to the 1.5 kilometre promenade and the park's green lawns to enjoy the open spaces. Boats can be hired, and there are cafés with views of the Alster.
Planten un Blomen park
In the midst of the city centre are the old town ramparts and the popular "Planten un Blomen" park. Where Danish cannonballs once whistled through the air in bygone centuries, there is today a magnificent green public space. The park also contains the botanical gardens, a tropical house and Europe's largest Japanese Garden, a tranquil yet impressive oasis.
Municipal Park (Stadtpark)
When the sun comes out, Hamburgers flock to the green spaces in the municipal park. People of all ages come to play football, picnic, fly kites and just enjoy the sun. At one end of the park is a playground with a giant swing, slide and lots of other equipment. A shallow paddling pool provides endless fun for the little ones, and there is also an open-air swimming pool in summer.
Top of page
Map of Germany
Map showing all of Germany's TOP travel destinations...
Click here!
Search in surrounding area