Events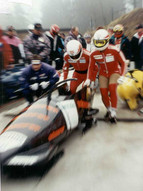 Winterberg specialises in sports, in winter and even more so in summer. Life here revolves around the outstanding events held in both the relatively traffic-free town centre and in the Jump & Fun sports arena by the year-round ski jump. Top sporting events take turns with regional fairs.
Bobsleigh run
International winter sports events and the Ice Race mountain bike race take place on the Winterberg bobsleigh run.
Artificial ice run
Winterberg's 1,601 metre artificial ice run attracts annual competitions in bobsleigh, luge and skeleton - both national and international.
Schützenfest fairs and traditional town fair
The annual
Schützenfest
fairs take place in June and July and the traditional town fair is held in August.
Top of page
Map of Germany
Map showing all of Germany's TOP travel destinations...
Click here!
Search in surrounding area