Art & culture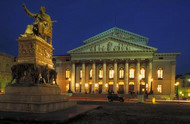 Munich's great orchestras, including three major world-class orchestras, guarantee unbridled listening pleasure. A high point of the music calendar is the celebrated opera festival in July. At the Classic Open Air festival at Odeonsplatz, music and an Italian atmosphere combine to form a symphony for all the senses. The Bavarian State Opera is the world's most prolific opera house with 350 performances a year!
Opera festival
Munich opera festival is an unparalleled opportunity for audiences to experience a wide range of operatic works – at the latest productions and festival premieres – all within a short, concentrated period of time.
Classics on Odeonsplatz
Classics on Odeonsplatz is Bavaria's largest classical music event and the high point of Munich's Summer of Culture. High-calibre open-air concerts by the Bavarian Radio Symphony Orchestra and the Munich Philharmonic on warm summer evenings bring a touch of Italian flair to the Bavarian capital.
Bavarian State Opera
The musical direction of the Bavarian State Opera lies in the hands of the great conductor, Zubin Mehta, who successfully combines great respect for tradition with a forward-looking approach. The highlight of the season is always provided by the Munich opera festival. Seasonal highlights are shown for a whole month.
Top of page
Map of Germany
Map showing all of Germany's TOP travel destinations...
Click here!
Search in surrounding area