Food & drink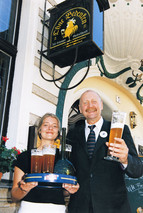 Leipzig has always had a reputation for its wonderful hospitality - for example, the traditional Auerbachs Keller restaurant and fine dining at gourmet restaurants. Known as "
Drallewatsch
" in local Saxon dialect, the area between Brühl and the New Town Hall via Fleischergasse has a string of eating and drinking places ranging from rustic restaurants to bars with live music. The "Zum Arabischen Coffe Baum" coffee house, one of Europe's oldest, has also seen some famous visitors in its time.
Auerbachs Keller
Auerbachs Keller is the authentic historical cellar restaurant featured in "Faust", the drama by Johann Wolfgang von Goethe. Today it is still the same as it has been for generations - both before and after Goethe's time. The menu on offer in the various rooms always features a "set meal from Saxony", a "small set meal", a "large set meal" and a choice of dishes prepared using the freshest seasonal ingredients.
Stadtpfeiffer
This is an elegant, fully glazed gourmet restaurant right next door to the main entrance to the Gewandhaus concert hall. It serves modern and classic gourmet dishes, always perfectly prepared.
Top of page
Map of Germany
Map showing all of Germany's TOP travel destinations...
Click here!
Search in surrounding area