Places of interest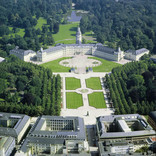 The design of Karlsruhe's centre is reminiscent of the sun's rays, with its streets and avenues fanning out from their central point - the tower of the baroque palace with its palace gardens, botanical gardens and orangery. In the heart of the city, you'll find the market square and the pyramid. The Renaissance-style Gottesaue Palace and Karlsburg Palace in Durlach are also well worth a visit.
Karlsruhe Palace
This baroque palace with its gardens and the Baden State Museum was built in the style of Versailles by the founder of the city, Margrave Karl Wilhelm. At its entrance are the beautiful grounds of the botanical gardens. The building of the palace is closely linked with the establishment of the town in 1715 by Karl Wilhelm. It is unique in that it was built on an undeveloped piece of land in the middle of a forest.
Market square and pyramid
The market square, on which the town hall, municipal church and pyramid stand, was built in the classical style when the city was redesigned at the beginning of the 19th century to reflect its status as a capital and seat of royal power. The pyramid, still Karlsruhe's most famous landmark, was built by Friedrich Weinbrenner on the site of Karlsruhe's first church. It contains the remains of Margrave Karl Wilhelm, the founder of the city.
Gottesaue Palace
The Renaissance-style Gottesaue Palace in the Oststadt district forms an architectural counterbalance to Karlsruhe Palace. Founded as a Benedictine abbey in the 11th century and repeatedly destroyed throughout the course of history, it has been restored and is now used as a music college.
Top of page
Map of Germany
Map showing all of Germany's TOP travel destinations...
Click here!
Search in surrounding area