Suggested excursions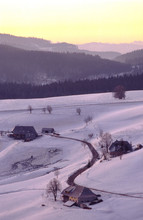 Freiburg's favourable location in the corner of Germany bordered by France and Switzerland means that it is both a destination in itself and the starting point for excursions into the Black Forest, the Vosges mountains and the neighbouring towns of Colmar, Basle and Mulhouse. Popular recreation spots such as Lake Schluchsee in the Upper Black Forest, Feldberg and Lake Titisee offer windsurfing, boat trips and, in winter, Alpine snow conditions. Schauinsland, Freiburg's own mountain, is a paradise for walkers in summer, and winter sports enthusiasts in winter.
Europa-Park Rust
A world of fantasy just waiting to be discovered. From a whistle-stop tour through Greek antiquity on the Poseidon water rollercoaster or a white-knuckle ride on the Silver Star with a new top speed of around 130 km/h, to an expedition to the land of the dinosaurs, the Europa-Park Rust theme park offers an unforgettable experience for all ages.
The Black Forest
Freiburg is the gateway to the Upper Black Forest. The Schauinsland peak is Freiburg's very own local mountain. No visit to Freiburg would be complete without riding the cable car to the top of Schauinsland and enjoying the summit area with its observation tower, circular walks, nature and cultural trails, ski lifts and mountain inns.
Switzerland and Alsace
France (Alsace – Strasbourg, Colmar and Mulhouse) and Switzerland (Basle) are also on Freiburg's doorstep.
Top of page
Map of Germany
Map showing all of Germany's TOP travel destinations...
Click here!
Search in surrounding area