Places of interest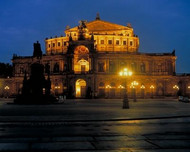 The recently restored
Frauenkirche
, Church of Our Lady, is a highlight of any visit to Dresden. Theaterplatz square is graced by the Zwinger Palace, the most important late-baroque building in Germany, the opulent Semper Opera House, the Residenz Palace with its stables and "Procession of Dukes", a frieze of Meissen tiles, and the cathedral. Outer Neustadt, Dresden's pub and club quarter, is well worth a visit, as is Pfunds Molkerei, the "most beautiful dairy shop in the world". Or you could head for the three palaces along the Elbe and the historical mountain railway in Loschwitz.
Zwinger Palace
Dresden's loveliest baroque building is in the heart of the old quarter. It is one of Europe's foremost late-baroque buildings. The Crown Gate (
Kronentor
) with its golden dome has become a famous Dresden landmark. A "Zwinger" was a type of castle and the name refers to its original location between the outer and inner walls of the fortification. Today, the spacious inner courtyard, various pavilions, arched walkways and gallery building blend together to form a harmonious whole.
Semper Opera House
Dresden has a tradition of opera dating back to the Renaissance period. With its magnificent architecture and acoustics, Dresden's Semper Opera House is one of the leading examples of 19th century theatre architecture. A faithful restoration has seen the opera house returned to its former glory, with its elaborate decor and ornate interior. Its musical tradition and the calibre of the singers who have performed here have made it one of the world's best-known opera houses.
Church of Our Lady (Frauenkirche)
Dresden's Church of Our Lady is one of the finest Protestant churches in Saxony. Completely destroyed in February 1945, the imposing ruins served as a reminder of war and destruction. Using materials salvaged from the rubble, the Church of Our Lady has been rebuilt in an archaeological reconstruction – as a place of faith, hope and encounter - supported by generous donations from many countries.
Top of page
Map of Germany
Map showing all of Germany's TOP travel destinations...
Click here!
Search in surrounding area