Nature & greenery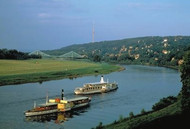 The
Grosser Garten
is a vast park in the city centre with a zoo and a park railway. To the north is Dresden Heath – a large area of woodland. Visitors can also find peace and tranquillity at Pillnitz stately home and grounds, a former royal summer residence which can be reached by pleasure steamer. The Elbe cycle trail takes cyclists along the river towards Meissen or upstream into Saxon Switzerland.
The Great Gardens (Grosser Garten)
The city's largest and most beautiful park lies to the south-west of the city centre. To the north is Dresden Heath – a large area of woodland. The early-baroque palace was built in 1683, and the park and palace became a place for the prince electors to show off their wealth. Today the park, with its extensive gardens, is one of Dresden's most popular recreational spots. There are several open-air stages which host cultural events. Concerts are staged in the palace, and every so often the park becomes the setting for festive balls and firework displays. On the outskirts of the park, the botanical gardens and zoo are also popular attractions.
Pillnitz stately home and grounds
The grounds of Pillnitz stately home on the south-eastern edge of the city are particularly worth seeing. This baroque estate with an exotic Far Eastern appeal was once the summer residence of the kings of Saxony and is now a much-admired visitor attraction. Set in the delightful countryside along the river Elbe, the artistically laid out baroque park and the adjoining English-style landscaped garden are perfect places for a gentle stroll.
The Elbe Cycle Route
Even as it passes through the city, the river Elbe is lined with broad meadows, vineyards and parks. The Elbe cycle route leads directly through the meadows, and is one of the loveliest and most varied long-distance cycle routes in Europe.
Top of page
Map of Germany
Map showing all of Germany's TOP travel destinations...
Click here!
Search in surrounding area