Permanent exhibitions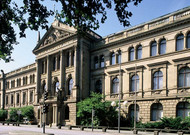 Permanent exhibitions offer fascinating insights into Bonn's history and other specific themes. The Alexander König Natural History Museum hosts the permanent exhibition "Unser Blauer Planet" (Our Blue Planet). There is a museum devoted entirely to the works of Max Ernst.
Museum mile - The Alexander König Natural History Museum
The highly-regarded natural history museum houses the permanent exhibition "Our Blue Planet – Life in the Network". At the heart of the exhibition is a savannah landscape recreated in the museum's inner courtyard. The exhibition offers fascinating insights into the way in which ecological life processes work.
Max Ernst Museum
Surrealist Max Ernst was one of the Cologne Dadaists who, towards the end of the first world war, formed an artistic anti-bourgeoisie movement. His home town of Brühl has created a modern museum in which to display his paintings, prints and the new sculpture collection with its 58 exhibits. The collection focuses on the artist's early works in particular.
Municipal Museum
A permanent exhibition laid out over 18 rooms documents the history of Bonn.
Top of page
Map of Germany
Map showing all of Germany's TOP travel destinations...
Click here!
Search in surrounding area