Museums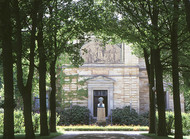 Bayreuth - festival and university town - has a rich cultural history legacy spanning eight hundred years of history and embracing far-reaching social, political and cultural changes. Bayreuth has accepted its duties as guardian of this important heritage and, over the decades, has developed a sophisticated and diverse array of museums.
Maisel's Brewery and Cooperage Museum
Maisel's Brewery and Cooperage Museum showcases the exciting world of beer and beer-making in the original brewery building. Learn the secrets of a perfect pint in the cavernous
Lagerkeller
(storage cellars), then after the tour, enjoy a free
Maisel's Weisse
wheat beer in the
Alte Abfüllerei
bar. Guided tours are the only way to see the museum. Group and multilingual tours on request.
»
Further information
Richard Wagner Museum
In 1976, to mark the centenary of the Bayreuth Festival, Villa Wahnfried was restored and opened as the Richard Wagner Museum and national archive. Wahnfried – former home of Richard Wagner – is now home to a permanent exhibition on the life and works of this great music dramatist and on the history of the Bayreuth Festival.
Jean Paul Museum
Jean Paul (Johann Paul Friedrich Richter) , born 1763 in Wunsiedel, lived and worked in Bayreuth from 1804 until his death in 1825. The museum houses a remarkable collection of manuscripts, first editions, portraits, literature and pictures of and relating to Jean Paul, one of Germany's foremost writers.
The Upper Franconia Museum of Prehistory
The museum traces the natural history of Upper Franconia, particularly the history of plants and animals (palaeontology), the earth (geology) and minerals. The exhibitions paint a vivid picture of the turbulent and fascinating development of Upper Franconia over the last 500 million years.
Top of page
Map of Germany
Map showing all of Germany's TOP travel destinations...
Click here!
Search in surrounding area