Nature & greenery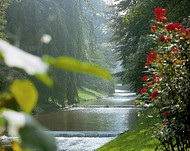 The Lichtentaler Allee, which runs through the spa park along the little River Oos, is perfect for a relaxing stroll. There is also a beautiful rose garden, the
Gönneranlage
. For magnificent views of the town, take the funicular up Mount Merkur. There is a wide range of sports on offer: the Baden-Alsace golf region (with 9 courses in and around Baden-Baden), tennis, horse riding, mountain biking, cycling, walking, climbing and hot-air ballooning. For wellbeing, fitness and relaxation, there is the modern Caracalla spa and the historical Friedrichsbad baths.
Lichtentaler Allee
Lichtentaler Allee begins at Goetheplatz and runs upstream along the left bank of the river Oos to Klosterplatz in Lichtental. The original river path from Lichtental Convent to the market was laid out as an avenue of oaks in 1655 by Moritz von Lassolaye and later developed into a large country-style park at the behest of the casino owners. More than 300 different native and exotic plants and trees including limes, chestnuts, oaks, planes, alders, gingkos, silver maples, magnolias and azaleas line the avenue.
Gönneranlage (Rose Garden)
Lichtentaler Allee park boasts a number of gardens, including the rose garden with 300 different varieties of rose.
The Baden-Alsace golf region
From St. Leon-Rot near Baden-Baden to Kempferhof in Alsace, nine golf courses have joined together to form the Baden-Alsace Golf Region. Golfers have a wide variety of courses to choose from, all set in beautiful countryside. There could hardly be a lovelier place to play.
Top of page
Map of Germany
Map showing all of Germany's TOP travel destinations...
Click here!
Search in surrounding area