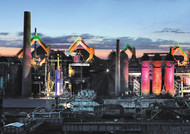 A fascinating industrial monument and a UNESCO World Heritage Site, Völklingen Ironworks are a remarkable testament to industrial and technological development in the 19th and early 20th centuries. At their peak, they provided work for the people of an entire region.
100 years of steelmaking
A labyrinth of blast furnaces, hot-blast stoves, pipes and overhead railways, the ironworks used to be one of the most modern industrial sites in Europe. In this intriguing industrial monument you can see the entire process of iron and steel production. Its Ferrodrom® Science Centre is a world of discovery where you can learn about all aspects of iron and steel. As well as being a UNESCO World Heritage Site, the ironworks provide the venue for a comprehensive range of cultural events.