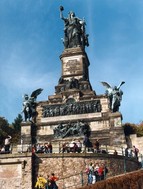 The figure of Germania rises impressively from the ridge of the Niederwald forest in the Rhenish Slate Mountains. The monument with its proud statue was built to commemorate the formation of the new German empire in 1871.
Symbol of a reunified German empire
The monument with its ten-metre statue of Germania towers high above the Rhine and can be seen for miles around. With the imperial crown in her raised right hand and the imperial sword in her left the statue commemorates the re-establishment of the German empire. As one of the largest works of art in the German empire, the monument was much acclaimed at the time and since its inauguration has attracted visitors in their droves. The monument – from which you can enjoy a spectacular view over the Rheingau – can be reached by a cable car that travels up through the vineyards.