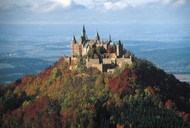 The ancestral castle of the House of Hohenzollern sits in splendour on a striking hilltop and can be seen for miles around. Its picturesque appearance embodies the ideal of a medieval castle.
The "Neuschwanstein" of Swabia
In the 19th century King Friedrich Wilhelm IV of Prussia restored the ancestral seat of the Hohenzollern family and turned it into one of the most impressive neo-Gothic castles in Germany. This majestic fortress is widely regarded as an expression of the romantic spirit of the time and represents the ideal of a medieval knight's castle. The panoramic view over the Swabian Alb is simply spectacular. The rooms open to the public contain exquisite works of art on the history of Prussia and its kings.