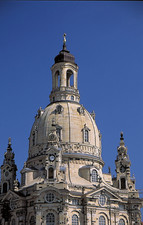 Dresden's most famous attraction is a masterpiece of baroque architecture. The destruction and rebuilding of the Church of Our Lady symbolises the history of the city like no other building.
Architectural splendour hides a turbulent past
For more than two centuries the dome of the Church of Our Lady was the defining feature of Dresden's skyline. After falling victim to the intense bombing raids of 1945, its remarkable ruins became a powerful reminder of the destructive effects of war. Following its reconstruction, which was supported by donations from all over the world, the building is now a symbol for reconciliation and peace. Fragile, elegant and beautiful beyond compare, the Church of Our Lady has reclaimed its rightful place in Dresden's panorama along the river Elbe. With its marbled pillars and delicately painted balustrades the chancel looks as good as new, while the huge stone dome is once again the dominating feature of the cityscape.