Events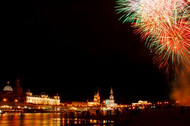 Dresden has a very lively cultural scene, with a variety of fairs, festivals and other activities. The Dresden Music Festival, the Dresden Festival of Contemporary Music and the world's second-largest Dixieland festival are firm fixtures on the city's cultural calendar. The steam train festival, the steamboat parade and the Elbhangfest festival are also celebrated here.
Dresden Music Festival
Every year from the end of May to early June Dresden's most beautiful palaces, gardens, theatres, palaces and churches play host to numerous concerts performed by leading international soloists and ensembles and the best of Dresden's orchestras.
The Elbhangfest festival
On the last weekend in June, the region between Loschwitz and Pillnitz is transformed into one giant festival ground. 200 different events are staged in five villages along the river Elbe in village squares, in parks and villas, on the banks of the river and on the slopes above it. Arts festival and fair in one, the Elbhangfest Festival has concerts, drama and dance events, recitals and special events for children. There are markets for local crafts, plus a variety of food and drink. Visitors and locals can find out more about the region through guided tours and lectures. There is also a variety of contemporary art events.
International Dixieland Festival
At Europe's oldest jazz festival and the second-largest of its kind in the world (middle of May), the whole city swings and parties to the sounds of jazz in concerts, on Elbe steamboats and along Prager Strasse. A jam session and grand Dixieland parade featuring vintage vehicles provide a grand finale for the event.
Top of page
Map of Germany
Map showing all of Germany's TOP travel destinations...
Click here!
Search in surrounding area