Permanent exhibitions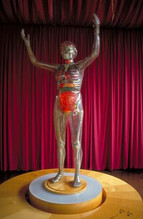 Dresden's 37 museums cover themes ranging from municipal to military history, from technology to books
The Green Vault
The Green Vault is Europe's most magnificent treasure chamber museum. It contains masterpieces by the leading jewellers and goldsmiths, plus
objets d'art
in amber and ivory, jewelled vessels and priceless bronze statuettes. Exhibits include the Golden Coffee Set, the cherry stone with the "186 faces", the great ivory frigate and fanciful pearl figurines.
The German Hygiene Museum
The permanent exhibition contains a large selection of exhibits from important collections of the German Hygiene Museum. Besides the familiar glass figures there are wax moulages and historical anatomical models and preparations, valuable items from the Schwarzkopf Collection and exhibits dealing with the theme of healthcare and education in the 20th century.
Sculpture Collection in the Albertinum museum
The sculpture collection in the Albertinum museum on Brühl Terrace presents works from more than five millennia – from the ancient cultures of the Mediterranean and Middle East through all epochs of European sculpture from the early Middle Ages to the present day. The highpoint of the permanent exhibition is the acclaimed antiquities collection
Top of page
Map of Germany
Map showing all of Germany's TOP travel destinations...
Click here!
Search in surrounding area