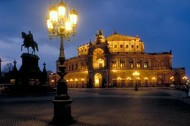 Semper Opera House is one of the finest and most celebrated opera houses in the world. It was built in an Italianate Renaissance style and overlooks Dresden's theatre square. Its fabulous acoustics and beautiful interior with marble stucco, precious metals and paintings make every visit a real experience.
Pinnacle of European theatre architecture
Semper Opera House is among the finest opera houses in the world. Its magnificent interior with rich stucco craftsmanship, beautiful wall and ceiling paintings and extraordinary acoustic properties attracts visitors in droves. Known officially as the Saxony State Opera, its opera company ranks as one of the oldest and most important in the world. The magnificent building is a magical sight at night when it is bathed in a warm and colourful light.