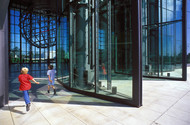 Picking up a new car becomes an unforgettable experience at VW's
Autostadt
. With lots of attractions, shops and entertainment for the whole family you'll have a fantastic day out - or even two!
The world of the car
VW's
Autostadt
in Wolfsburg, an exhibition complex and theme park, is almost a complete town in itself, with its canal, hotel, restaurants and excellent shops. It's not just for car lovers or people picking up brand new vehicles. There are different stores selling car-related products.