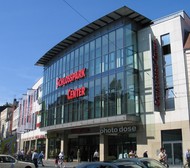 In a town with so much shopping potential, it's no surprise to find that Schwerin's old quarter is home to all kinds of different shops. However Schwerin is also proud of its huge shopping centre, the Schlossparkcenter on Marienplatz square.
All-weather shopping
When you're done with sightseeing and sampling the regional specialities such as smoked eel, traditional clear or caraway schnapps, the elegant, light-filled Schlosspark shopping centre on Marienplatz square offers a state-of-the-art shopping experience with a wide range of specialist shops.