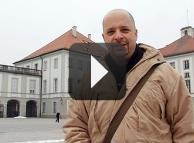 The Fünf Höfe (five courtyards) are in a class of their own when it comes to fashion, literature, lifestyle and cafés. This pedestrianised shopping centre between Odeonsplatz square and Marienplatz square is the perfect combination of consumerism, art and culture.
Joie de vivre and shopping heaven
Between Kardinal Faulhaber Strasse, Theatinerstrasse and Salvatorstrasse you'll only find the finer things in life: the latest trends from prestigious designers and the most audacious trendsetters alongside stunning footwear and bags, accessories for the home from Manufactum, books and cosmetics. In the yellow building in the Dienerstrasse, just a stone's throw away, is "Alois Dallmayr", Munich's number one delicatessen.