Food & drink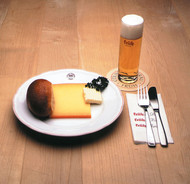 Cologne is renowned for its remarkable wealth of places to eat and drink. With everything from gourmet restaurants to its famous brewpubs, the city certainly caters for every taste. Nowhere else in Germany has such a high ratio of bars to people or as many first-rate restaurants.
Em Krützche
This venerable building in the old town alongside the Rhine houses a traditional restaurant consisting of several dining rooms, serving classical and Rhenish cuisine.
"Zur Tant" and "Hütter's Piccolo" restaurants
A listed half-timbered building in an exposed location on the banks of the Rhine with panoramic views and a terrace. The bistro offers good homemade cooking, while the restaurant menu features a tempting range of gourmet cuisine.
Park Plaza
A well-appointed, modern establishment offering outstanding service. The Restaurant Calla serves a combination of regional and international dishes. There is also a spa area on the roof terrace.
Top of page
Map of Germany
Map showing all of Germany's TOP travel destinations...
Click here!
Search in surrounding area