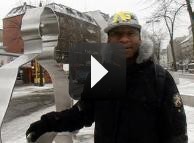 Not far from the Inner Alster lake, between Gänsemarkt square and the Colonnades, you'll find over thirty friendly shops, a sure bet to find the latest fashions or to track down that hard-to-find, quirky present.
Young fashion and trendy shopping
The statue of the poet Lessing, situated at the star where the three shopping streets of Gänsemarkt, Gänsemarktpassage and Gerhofpassage all meet, is a popular stopping-off point. Surprises come in all shapes and sizes here. Why not take a walk along the Gerhofpassage and explore the fantastic bohemian boutiques and young fashion stores?