Nature & greenery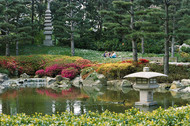 The Hofgarten gardens, with the rococo Jägerhof Palace, are the city's green lungs. The Aquazoo, with its spectacular aquariums and fascinating science exhibitions, is a highlight of the North Park. The extensive Bilk Rhine Park with the 234-metre Rhine tower sprawls along the southern bank of the Rhine. The river Düssel, which gave the city its name, snakes through South Park.
Hofgarten
Designed in 1769 by Nicolas de Pigage for Elector Carl Theodor, the Hofgarten was Germany's first public park and later served as the model for the English Garden in Munich. In the oldest part of the park, next to the water fountain with the "Jröner Jong" (green boy), is Jägerhof Palace which was created in 1772 to the plans of Aachen architect Johann Joseph Couven and later transformed by Pigage into an elegant rococo palace. Today it is home of the Goethe Museum.
North Park
North Park has everything a park should have: fountains, sculptures, beautiful trees, neatly kept flowerbeds, interesting children's play areas, Aquazoo and Japanese Garden.
Bilk Rhine Park
Bilk Rhine Park is the green link between the city centre and the harbour. The combination of plants, lawns and architecturally fascinating buildings has created a park that makes a lovely destination for a day out, or just a place to relax.
Top of page
Map of Germany
Map showing all of Germany's TOP travel destinations...
Click here!
Search in surrounding area