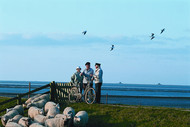 Amid the fascinating world of the Hallig islands in the Wattenmeer National Park lies the Nordstrand peninsula, which is linked to the mainland by a causeway. This quiet rural idyll is surrounded by a verdant protective dike. A relaxing holiday destination, the island is ideal for cycling tours and offers the perfect base for horse-drawn cart trips along the sea bed.
The North Frisian Hallig islands are often referred to as "dreams floating on the sea". These small marshy islands have been created as a result of the interplay of the tides and storm floods. Visitors to the islands can enjoy peace and quiet along with fascinating glimpses of a remarkable variety of flora and fauna. Of the hundreds of Hallig islands that once existed here, with their typical mounds of earth, or Warften, only ten remain. Even on the sunniest of days, you get an insight into what it's like to live in the middle of the ocean - close to the powerful forces of nature.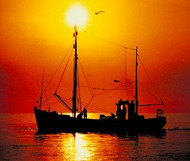 Twice a day, the tide brings raw materials and food into the coastal mudflats. Nutritional sediments are deposited on the sea bed. An area of just one square metre of fertile mudflats is inhabited by millions of diatoms, thousands of small crabs and many mussels, snails and worms – that's more creatures than live in an equivalent space in the jungle!
But as with most exciting experiences, a trip into the mudflats is not without danger. Even on the most beautiful of summer's days, inexperienced visitors may be at risk from suddenly descending fog or the rapidly rising tide. You should therefore only walk across the mudflats if accompanied by an expert tour guide.