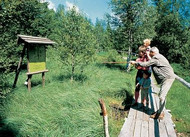 The Rhön also offers excellent - and sometimes quite challenging - walking and cycling terrain, as well as golf, climbing, horse riding and canoeing. It is a land of open spaces, grassy hills with autumn colour, shady forests and quiet valleys with rivers and streams. There are fields of heather and juniper, mysterious high moorland and withered trees. The Rhön also has castles and chapels shrouded in legend, places of historical interest and warm, welcoming villages in beautiful natural surroundings.
It is especially delightful in spring and early summer when the plateaus are covered in flowers including many species of orchid. In the autumn the Rhön's forests are alive with colourful flora such as the carline thistle. There are plenty of places of cultural and historical interest, including stately homes, castles, churches, abbeys, Madonnas, statues of saints and wayside shrines and crucifixes.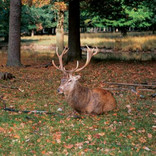 If you fancy a spot of pampering, head for one of the Rhön's spa resorts. They offer luxury health breaks and fitness packages as well as excellent treatments for a variety of complaints.
Gourmets are also well catered for with game from the forest, lamb from the fields and trout from local streams. Delicious local beer served fresh from the barrel, cider, sparkling water or fresh apple juice are all ideal accompaniments. Locally distilled schnapps is also highly recommended.