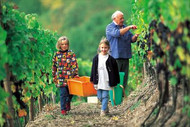 Back in the mists of time the Rheingau was settled by the Teutons and the Celts. The Romans left a rich legacy of architectural and cultural monuments. The landscape is dotted with neatly kept wine-growing villages where you will find plenty of vintners' taverns.
Well-known wine-producing estates, stately homes, abbeys, castles and cultural monuments are all packed into this "small region of great wines". The Rhine here can be as wide as a lake. Autumnal mists encourage the growth of noble rot and create the perfect conditions for the Rheingau's coveted late-harvest wines.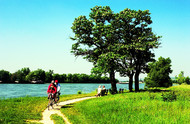 Discovering the world of wine growing is not only extremely enjoyable but also very instructive. As in many other wine-producing areas, the Rheingau's wine growers are happy for visitors to watch them go about their work. Visitors are also often welcome to help with the grape harvest, but you have to be prepared to get up early and to work on some steep slopes. You won't necessarily be picking the grapes for Eiswein, a late vintage, as this has to be done during a harsh frost (minus 7°C ). As a general rule, one bottle of wine is produced from each vine. What better invitation could there be to visit the Rheingau?
As you might expect in a region that produces fine wines, Rheingau people also appreciate good food and convivial company. Wine tasting at traditional wine cellars is an integral part of Rheingau life. Local people really know how to enjoy themselves and there are plenty of places to visit. They say that every mountaineer aims to conquer the Himalayas; for wine lovers, the Rheingau and its wines represent the ultimate aspiration.