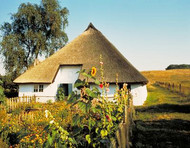 Mecklenburg's Baltic coastline - from the river Trave to the river Recknitz - is characterised by long beaches of fine sand, high banks and sheer cliffs. To the east is Western Pomerania with its islands Grosser Werder, Bock and the Fischland-Darss-Zingst peninsula. This is real Hanseatic League country, particularly the Hanseatic cities of Wismar and Rostock. To the west are the Bay of Wismar, Salzhaff Bay, the island of Poel and two of the largest and oldest Baltic seaside resorts - Boltenhagen and Rerik - whose history goes back to the mid-19th century. There are records of a settlement at Rerik dating back to the time of Charlemagne.
The former Hanseatic cities of Stralsund and Greifswald and the islands of Usedom and Rügen are along the Baltic coast of Western Pomerania. Stralsund, almost 800 years old, is an architectural gem. Its town hall, which has a magnificent gabled façade, is one of the finest secular buildings in northern Germany. Many of Stralsund's town houses date from the 15th and 16th centuries.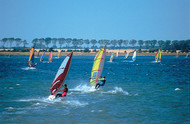 The former Hanseatic town of Greifswald has - like Stralsund - a number of fine Gothic brick churches. A little to the east of Greifswald are the ruins of the Cistercian Abbey of Eldena and the fishing village of Wieck. The island of Usedom lies just off the coast at Wolgast. Usedom's beaches are mainly flat - perfect for swimming. On the mainland to the south-west of Usedom - and on the south bank of the river Peene - is Anklam, with its prominent, late-Gothic, stone gate (32 metres). The river Peene continues to Ueckermünde, Germany's most easterly sea port.
Szczecin lagoon is excellent for sailing and angling. Eel caught in the lagoon is a local Pomeranian speciality. The whole of the Baltic coast lends itself to water sports, from kite surfing to wreck diving. It is also a rich hunting ground for collectors of shells, amber and starfish. Visitors can enjoy boat trips, walking, horse riding, golf and cycling, as well as discovering art and places of historical interest.