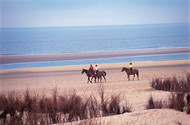 Norderney is 14 kilometres long and 2 kilometres wide at its widest point. It is the second-largest of the East Frisian islands (25 square kilometres). With its long sandy beaches, dunes, salt marshes along the mudflats, open pastures and little copses, Norderney is perfect for water sports, walking and horse riding. Equestrians can enjoy riding at a walk or a trot on marked bridlepaths across the dunes or at a brisk gallop along the water's edge. Seals - which can dive to a depth of 100 metres for up to ten minutes - are a great pleasure to watch from the sandbanks.
Baltrum is the smallest and youngest of the East Frisian islands, just 600 years old. Natural, reserved, but never boring. Fresh, not artificially pretty, but with a certain je ne sais quoi. Calm, yet full of energy, cheerful and friendly, but never pushy or brash …. and always full of romance - just like a seaside fairytale. The 20 square kilometre, car-free island of
Langeoog lies between the mudflats and the sea. It has an unspoilt sandy beach stretching for 14 kilometres. Langeoog has a remarkable dune landscape formed by the strong winds and offers activities for people of all ages. How about a dip in the North Sea, the largest and most exhilarating plunge pool in the world? Let the sea wash away all your cares - Greek philosopher Plato certainly believed that it could.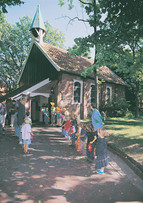 The small, car-free island of Spiekeroog offers total relaxation. It lies within the Lower Saxony Wattenmeer National Park and is the only East Frisian island without an airport. Discover the amazing world of shells at the fascinating Shell Museum. Shells are like people - no two are ever the same.
Wangerooge is the most easterly of the East Frisian islands. Its lighthouse is visible for miles around. For years this old landmark has been a popular place for couples to tie the knot. People come from far and wide to say "I do" 30 metres above the sea. But there are plenty of other reasons why this 200-year-old seaside resort should appeal to visitors. It is a unique island village with the sea and the beach right on the doorstep. The bathing water around all the East Frisian islands is of excellent quality and is constantly monitored. Visitors can look forward to a warm welcome and the taste of food that has come straight from the sea.