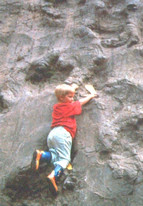 But it is not only man who left his mark on this region. Dinosaurs also left traces behind. Dinosaur footprints can be made out in the sheer rock face near Barkhausen. There is now a small visitor area in the former quarry with dinosaur reproductions and a 16km dinosaur trail complete with information boards.
The many marked routes, which are ideal for cyclists and walkers, take visitors to museums, places of interest, abbeys, historical sites, windmills, watermills, castles, stately homes, picturesque villages, spa resorts and lively towns. For a touch of railway nostalgia, take one of the old steam locomotives that puff their way round the region during the summer.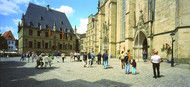 In the spring, when the area around Bad Iburg is a sea of cherry blossom, the route through the Holperdorp valley to Hagen, a long-established pottery town, is a real visual feast. With so much to discover, in the long evenings you might like to join the friendly locals and listen to their tales of the weird and the wonderful, including spirits and goblins.
Another favourite local pastime is eating hearty black bread, bacon and ham, with a beer and a schnapps to wash it all down. The local people have a bit of a reputation for enjoying a drink or several, so drinking contests are best avoided. After all, there are plenty of other ways to have fun.