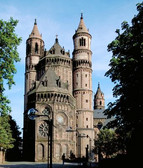 The Song of the Nibelungen, an ancient epic combined with an even older set of myths, dates back 800 years. Its descriptions of daily life, festivities and feuds are still popular themes today.
The Neckar valley is one of Germany's most romantic river valleys. The Neckar winds its way along the Odenwald's southern hills, passing a host of castles and enchanting small towns. A river cruise is the most restful way to discover this beautiful area. This mythical region is popular with motor cyclists and also offers plenty of choice for cyclists and walkers wishing to explore the realm of the Nibelungen.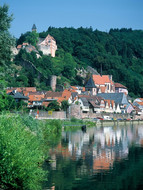 Heidelberg, which lies on the river Neckar, is a veritable gem. Its old quarter - a model of historical town development - has narrow alleys, numerous bars and a romantic atmosphere which attracts visitors from all over the world. Heidelberg Castle, the seat of the Palatine House of Wittelsbach during the 15th and 16th centuries and now partially restored, sits in splendour above the town.
Both in summer and in winter, the region's enchanting scenery, fresh air and spas and health resorts are a joy for body and soul. If you're thinking of visiting the region, you can look forward to excellent cuisine - both regional and international - and great hospitality from the friendly local people.