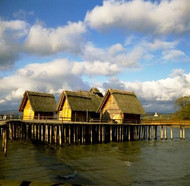 Why not float above Lake Constance in the world's largest working airship and relive the Zeppelin legend? To the north-west of the lake lies the Hegau, a volcanic landscape with castles, palaces and charming villages. This is where the Black Forest meets Lake Constance. The Hegau is a dual chain of volcanoes which rises from a base of volcanic ash. The region's hub is Singen am Hohentwiel. Upper Swabia is situated between the Danube and Lake Constance. This is a landscape which stands out for its – often long – wooded chains of rolling hills which alternate with wide open spaces, used mainly for agriculture.
Nowhere else has such a high concentration of baroque art. The best example of the period can be found at Weingarten Abbey, the largest baroque church anywhere north of the Alps. The Federsee museum of neolithic lake dwellers in Bad Buchau is also worth a look. The area around Federsee lake is one of the richest sources of archaeological marshland finds anywhere in Europe. The museum brings some of this evidence from long ago to life. Stone Age huts and houses, rides in a dugout canoe, baking bread in a clay oven and demonstrations of ancient craft techniques are all part of the fun at the archaeological adventure park which surrounds the Federsee museum.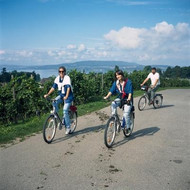 Prepare to be enchanted by the colours, shapes and scents when you visit the beautiful gardens that fringe the western part of Lake Constance and amazed by the cultural life of the Lake Constance region. Whether you are looking for relaxation or activities, the lake fondly described as the "Swabian Sea" has something for everyone, from walkers and nature-lovers, cyclists and skaters on the 270-kilometre Lake Constance Cycle Route to water sports fans in, on and around the lake.
And there's also plenty of interest to art and history enthusiasts as well as campers and gourmets. There are 28 golf courses, which cater for visitors' health and wellbeing along with the local health resorts and spas. Travel always means exploration. Here, you can discover four countries, one lake and a thousand possibilities.