Nature & greenery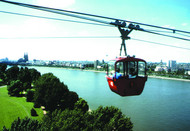 Cologne is surrounded by greenery. From native copses and unspoilt areas where game roams free to tranquil spots for relaxation and places where you can actively experience nature, there is no shortage of leisure facilities in the beautiful surrounding countryside.
Arboretum
For fascinating glimpses of nature at any time of year visit the arboretum with its Japanese section, the impressively laid out Flora "garden monument" with its incredible variety of plants, and, right next door, the hothouses of the botanical garden.
Finken's Garden
Finken's Garden is a garden offering practical ways for children of all ages to discover nature. The children can observe, explore, smell, taste and touch what they find in the garden, allowing them to experience the diversity of nature and the changing seasons close up.
Flora
The incredible variety of plants, their significance for horticulture, technology, nutrition and for the construction and textile industry - these are the themes of the gardens in the north of Cologne, generally referred to as the "Flora". Originally two separate gardens, the "Flora" is now one large park featuring a "garden monument" and a botanical garden.
Top of page
Map of Germany
Map showing all of Germany's TOP travel destinations...
Click here!
Search in surrounding area