Places of interest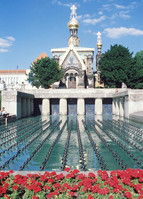 At the Art Nouveau Mathildenhöhe artists' colony, visitors can see the red and green Wedding Tower, the Russian Chapel with its golden onion domes, the exhibition building and the houses where the artists Glückert, Deiters and Olbrich lived. Luisenplatz with its 33-metre Ludwig's Column is the heart of the town. The "Forest Spiral" - a typical Friedensreich Hundertwasser building - brings the forest into the town.
Art Nouveau Mathildenhöhe artists' colony
An artists' village set in the middle of a park landscape with ornate facades, light, colourful living spaces and functional furnishings. The exhibition, which opened in 1901, put the small town of Darmstadt on the map as a centre of art and culture and attracted visitors from far and wide. The exhibition presented a new form of art on the threshold of a new century, born of a new attitude to life: Art Nouveau.
"Forest Spiral"
Designed by Friedensreich Hundertwasser, Darmstadt's "Forest Spiral" is the highlight of the Bürgerpark district on the outskirts of the town centre. This is a model building which creates living space without compromising the needs of man or nature. It brings nature and urban living together in perfect harmony.
Moller Theatre (House of History)
The Moller Theatre is the home of the Hessian regional archive, the town archive and the Hessian Historical Society (House of History). Architect Georg Moller built the "Great House" in the classical style in 1819, and it was home to the Darmstadt theatre until it was destroyed in the Second World War. Its grand foyer, restored in the style of the 1870s, is particularly worth seeing.
Top of page
Map of Germany
Map showing all of Germany's TOP travel destinations...
Click here!
Search in surrounding area