Places of interest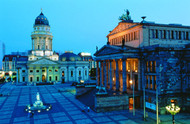 Brandenburg Gate, the TV tower on Alexanderplatz – a 368-metre observation tower with rotating restaurant; Memorial Church on Kurfürstendamm, Gendarmenmarkt square – a beautiful and harmonious architectural synthesis with the
Konzerthaus
concert hall, the German Cathedral and the French Cathedral; the dome of the Reichstag – fascinating architecture and splendid views of the government quarter and the city centre; Hackesche Höfe – Berlin's famous nightlife; Potsdamer Platz – ultra-modern buildings, shops, entertainment and commercial centre.
Brandenburg Gate and the Memorial Church – unmistakeable symbols of the city
Brandenburg Gate is Berlin's most famous landmark and a symbol of division overcome. For many years it stood in no man's land next to the Berlin Wall and was reopened on 22 December 1989, following the fall of the Wall. The Kaiser Wilhelm Memorial Church on Kurfürstendamm is a memorial to peace and reconciliation and symbol of Berlin's determination to rebuild during the post-war era.
The Reichstag and government quarter
The Reichstag is the German parliament building and, with its new glass cupola designed by Sir Norman Foster, has become one of Berlin's most popular attractions. The Federal Chancellery is one of the most impressive buildings in the newly built government quarter. The large white building is part of the "Band des Bundes", or "ribbon of government" that links the new buildings and creates an architectural dialogue with the historical Reichstag.
Hackesche Höfe
The painstakingly restored Hackesche Höfe courtyards are extremely popular with tourists and trendsetters alike. Consisting of a web of eight courtyards designed for living and working, the Hackesche Höfe form the largest complex of its kind in Germany. The complex was built in the late 18th/early 19th century and, like many such courtyards in Berlin, was a mix of offices, workshops, multi-storey factories (particularly in the buildings in front of the courtyards) and apartments.
Top of page
Map of Germany
Map showing all of Germany's TOP travel destinations...
Click here!
Search in surrounding area