Suggested excursions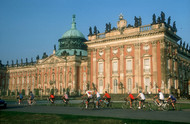 No visit to Berlin would be complete without a trip to Potsdam, the Brandenburg state capital, a short distance from Berlin. Potsdam is a UNESCO World Cultural Heritage site: visitors encounter living history at every turn, not only at Sanssouci Palace, the Prussian royal summer residence with its magnificent gardens, but also in Potsdam's beautifully restored city centre (18th-century architecture) and in the Dutch Quarter. The Berlin zoo in Friedrichsfelde is an extensive country park with a substantial collection of animals. The largest of Berlin's lakes, Lake Müggelsee, is next to a large recreation area.
Potsdam
To the south-west of Berlin is Potsdam, summer home of the Prussian Kings. The Potsdam palaces - Sanssouci, New Palace and Charlottenhof - still retain some of the magic of bygone eras, as do the extensive palace grounds dotted with little buildings such as the gilded Chinese Tea House. The centre of Potsdam with its picturesque Dutch Quarter and the Russian colony of Alexandrovka with its traditional Russian buildings bring the past back to life .
Friedrichsfelde Animal Park
The Friedrichsfelde Animal Park is a large expanse of parkland and home to a number of rare animal species. The 160 hectare park is set in the historical grounds of Friedrichsfelde Palace.
Lake Müggelsee
Lake Müggelsee is Berlin's largest lake and is next to a large recreation area which extends from Treptower Park via the Plänterwald wood to the Müggelberg hills. Ideal for walks, bike rides or swimming.
Top of page
Map of Germany
Map showing all of Germany's TOP travel destinations...
Click here!
Search in surrounding area