Permanent exhibitions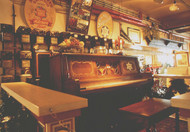 Bayreuth has a permanent exhibition devoted to the world-famous piano virtuoso Franz Liszt. An altogether different journey of discovery is offered by the Brewery and Cooperage Museum. The art of brewing beer is widespread in this part of the world (the region is known as "Beer Franconia") and few other towns have more breweries and such a wide choice of beer. A detour to the German Freemasons Museum is also well worth while.
The Franz Liszt Museum
The museum contains a number of priceless Liszt portraits, the Ibach grand piano from the hall of Villa Wahnfried, Liszt's silent piano, a life mask and a death mask, handwritten letters, some rare first editions, a diary written by the young Franz Liszt and other personal items, and many other exhibits.
The Maisel Brewery and Cooperage Museum
The world's most comprehensive beer museum (featured in the Guinness Book of Records) covers more than 2,400m2. In the pewter-decorated brick building that was home to the original Maisel brewery, visitors can wander through the museum's twenty rooms and see all the various stages of the brewing process in this fully preserved brewery.
The German Freemasons Museum
The Freemasons Museum brings to life the history and philosophy of the Masonic Lodge, which has its origins in the trade of stonemasonry. The museum also has the largest masonic library in the German-speaking world and a masonic research centre.
Top of page
Map of Germany
Map showing all of Germany's TOP travel destinations...
Click here!
Search in surrounding area