Museums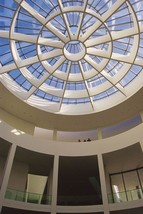 The
Pinakothek der Moderne
brings modern and contemporary painting and sculpture, jewellery, graphic art and the collection of the architectural museum together under one roof. Together with the
Alte Pinakothek
, the
Neue Pinakothek
, the
Glyptothek
museum of Greek and Roman sculptures, the antiquities collection and Lenbach House, it forms a unique arts collection. The German Museum with its branch museum, the
Verkehrszentrum
(transport centre), is a pioneering museum all about mobility.
Munich Art Quarter
Bordered by Türkenstrasse and Luisenstrasse, Munich's art quarter boasts a total of seven museums, between them covering all aspects of painting, from the Old Masters to contemporary art. Also worthy of attention are sculptures, statues and works of art from antiquity to the present day. Guided tours of the temporary exhibitions are available on request. Closed on Mondays, except the New Pinakothek (closed on Tuesdays).
»
Further information
German Museum
The German Museum in Munich is Europe's largest museum of technology. No matter what your age or nationality, this is the right museum for you if you have even a passing interest in technology. There's so much to do and so many buttons and consoles to do it with. No other museum engages with its visitors to such an extent. Public guided tours are available, specialist tours on request. The museum is closed on 24, 25 and 31 December, 1 January, Shrove Tuesday, Good Friday, 1 May and 1 November.
»
Further information
Architecture Museum of the Munich University of Technology
The museum currently has by far the largest specialist architectural collection in Germany. At present, the archives hold approx. 350,000 architectural drawings by 700 architects, more than 100,000 photographs, 500 models, various plaster-cast reproductions and sculptures, building files and a number of priceless architectural treatises and engravings. Recently, computer animations and printouts have also been added to the collection. The oldest drawings date from the 16th century and the oldest model from the 17th century. The collection focuses on architecture from the 18th to the 21st century.
»
www.architekturmuseum.de
Bavaria Filmstadt
Bavaria Filmstadt in Munich is one of Germany's largest film studios. Founded in 1919, it covers an area of approximately 356,000m². Directors including Alfred Hitchcock, Billy Wilder, Orson Welles, Rainer Werner Fassbinder, Wolfgang Petersen, Wim Wenders, and many famous actors such as Sophia Loren, Heinz Rühmann and Elizabeth Taylor have all worked here. Visitors can take a guided tour behind the scenes of film production. A high-tech outside broadcast van allows them to observe the making of a live program and the 4D cinema with its special sound system is definitely worth a visit. The ultimate highlight of the Filmstadt is the Bavaria Stunt Show, which appeals to everyone, not just action-film fans. Closed on 24 December and 25 December Guided tours in foreign languages.
»
www.filmstadt.de
Botanical garden, Munich-Nymphenburg
Munich's botanical garden was founded in 1809, the first of its kind. It now stretches over 22 hectares, welcomes more than half a million visitors a year and is one of the most important botanical gardens in the world. More than 14,000 plant species are cultivated here. The collections comprise plants from humid tropical regions, subtropical mountain forests and hot deserts, all growing in greenhouses covering a total area of more than 4,500m². The
Schmuckhof
garden, the rhododendron grove, the arboretum and the alpine garden are also worth a visit. Together with the special exhibitions, the garden itself is popular all year round. Accessible for wheelchair users. Guided tours on request.
»
www.botanik.biologie.uni-muenchen.de
Bavarian State Collection for Palaeontology and Geology
In the lovely setting of the Palaeontological Museum in Munich the Bavarian state collection presents fascinating exhibits dating back millions of years. There are skeletons of dinosaurs and mammals, exhibitions on special themes such as the archaeopteryx, the first bird, or about the Sandelzhausen site where Tertiary-period vertebrate fossils were discovered. In the museum's 450m² exhibition space visitors can learn about fossils, the interaction between organisms and the Earth's system, the geological processes and cycles of our planet and many other fascinating topics. Guided tours available, closed Saturdays, Sundays and public holidays.
»
www.palmuc.de
BMW Museum
The BMW Museum is right next to the BMW Tower. On show here is everything BMW has ever produced, from the pre-war Dixi car and the Isetta bubble car to racing cars. There are also engines, turbines, aircraft, motorcycles and vehicles of every conceivable kind. Paris-Dakar rally veterans sit proudly beside historical, pre-war racing motorcycles, touring cars next to Formula 1 machines, and special editions, such as the BMW Art Cars created by famous artists of the last 40 years, rub shoulders with vehicles from Hollywood films. These and over 400 other vehicles and models offer fascinating insights into the manufacturing history and tradition of BMW right up to the present day. Guided tours on request.
»
www.bmw.com
Erdinger Weissbräu brewery
At the world's largest wheat beer brewery, tradition and progress go hand in hand. The beer is brewed according to traditional recipes, using state-of-the-art production processes. Today, beer connoisseurs around the world regard this traditional speciality beer from Erding in Bavaria, whose origins date back to 1886, as the ultimate in wheat beer enjoyment. The brewery tours are extremely popular with wheat beer enthusiasts. This informative and highly entertaining journey through the world of wheat beer will guide you through all the steps - from the natural ingredients to the finished product: raw materials, brewing process in the brewhouse, fermentation and filtration cellars, high-tech bottling plant, maturing process in our computer-controlled warehouse, loading and shipping around the world. Multilingual videos and tours are also available.
»
www.erdinger.de
Exhibition Hall of the Hypo Foundation for Culture
The Hypo Foundation for Culture in Munich, most famous for its Kunsthalle (exhibition hall) where regular exhibitions are staged, has been one of Munich's most important cultural institutions since it opened in 1983. Here we can see evidence of the constant appeal of European art from the Renaissance to the Romanticism periods, exhibited in an area of 3,200m² spread over two floors. There are one-man exhibitions of works by Gauguin, Picasso, Miró, Magritte, Giacometti and Nolde, to name just a few. Fabergé masterpieces and art from non-European countries are also featured. Closed 24 December.
»
www.hypo-kunsthalle.de
Beer and Oktoberfest Museum
Opened in 2005 and housed in one of Munich's oldest 14th century town houses, visitors to the Beer and Oktoberfest Museum can learn many fascinating facts about beer and the Munich Beer Festival. The museum presents the intriguing history of the amber nectar with numerous exhibits, all the way from the first references to brewing beer in Mesopotamia via the Egyptians, Celts and Teutons to the German Beer Purity Law and finally Munich beer. On two other floors there is a wealth of information about the Oktoberfest. Organised for the first time in 1810 as a wedding party for King Ludwig I and Princess Theresa of Saxony-Hildburghausen, it has since developed from a regional celebration into the largest beer festival in the world. Closed on Sundays, Mondays and public holidays. Guided tours on request.
»
www.bier-und-oktoberfestmuseum.de
Residenz Palace Museum – Wittelsbach Treasury
Founded in 1565 by Duke Albrecht, the Wittelsbach treasury has been open for public viewing since 1920. Housed in the 130 exhibition rooms of the palace museum, this collection is one of the most important of its kind in Europe, and among the finest in the world. The exhibition covers the late Graeco-Roman period, the Middle Ages (with exhibits such as the Ciborium of King Arnulf from around 890 and the Cross of Queen Gisela from 1006), the late Gothic and Renaissance periods, and the baroque, rococo and neoclassical eras. Also on display are treasures crafted from lead crystal, gems and ivory, ecclesiastical art, orders and insignia, exotic artwork, plus tableware and toilet sets made by the Nuremberg and Augsburg goldsmiths. The apartments, ceremonial halls and chapels once frequented by the rulers of Bavaria provide an excellent opportunity to see a large number of rooms in a variety of historical styles. Open daily, closed on 1 Jan., Shrove Tuesday, 24, 25 and 31 Dec., guided tours available.
»
www.residenz-muenchen.de
Top of page
Map of Germany
Map showing all of Germany's TOP travel destinations...
Click here!
Search in surrounding area