Suggested excursions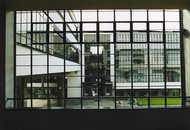 Leipzig is an ideal base for excursions, for example to the Bauhaus town of Dessau and nearby Wörlitz Park (a UNESCO world heritage site) or to sites of historical and scenic interest in the Saale valley. Belantis Amusement Park on the southern edge of Leipzig is a great day out for all the family.
Bauhaus in Dessau and Wörlitz Park, a UNESCO world heritage site
The Dessau Bauhaus (1925) had a huge influence on the fields of architecture and design. Among the most noteworthy buildings are the Bauhaus Building and the Employment Office designed by architect Walter Gropius. Wörlitz Park, a remarkable, English-style landscaped garden on the edge of the Elbe meadows, is a UNESCO world heritage site and part of the Middle Elbe biosphere reserve.
Saale valley: Lützen, Freyburg, Naumburg
Lützen, to the south-west of Leipzig, is where King Gustav II Adolf of Sweden, an ally of Saxony, fell in battle fighting Wallenstein's troops. The well-protected Saale-Unstrut valleys are part of Germany's most northerly wine-producing region. A wine festival is held every year in the small town of Freyburg. Naumburg is well known for its Romanesque cathedral.
Belantis Amusement Park Leipzig
The days when excavators worked the former brown coal-producing area to the south of Leipzig are long gone. It is now an area of lakes and home to Belantis Amusement Park Leipzig. "Land of the Pharaohs", "Knights' Castle" and much more – 25 hectares, five theme areas and highlights including a glacier slide and roller coaster. Great fun for all the family.
Top of page
Map of Germany
Map showing all of Germany's TOP travel destinations...
Click here!
Search in surrounding area